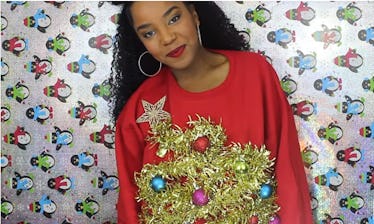 8 Ugly Christmas Sweater Ideas That Buddy The Elf Would Approve Of
'Tis the season to find everything shiny, gather it in your craft corner, and create something so ho-ho-horrible it'll actually be cute. Even if you don't believe in Santa, your creative abilities are never questioned. Messing around with ugly Christmas sweater ideas will be so much fun, and it'll keep you from thinking about whether or not you made it on the naughty or nice list.
I'm not sure where the ugly Christmas sweater idea originally came from, but I am so here for it. The tradition has literally made its way into the workplace and among close-knit groups of friends just looking for a reason to cheers spiked eggnog. Making your own sweater is so satisfying, because even though it is holiday-themed, you're adding your own personality and depiction of this festive time of year.
Every year, people manage to surprise the Internet with these intense Christmas sweaters just when we started to think that the magic from the year before couldn't be topped. This year, whip out all of the tricks in the book, and start crafting a sweater so adorable that Santa will come early this year and gift us with major kudos. Of course, we all want to be original, but peep how these sweaters crushed it.