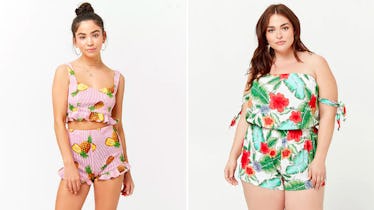 These Tropical Vacation Outfit Ideas Are Anything But Basic For Your 'Gram
Those longs days on the beach sipping on a bendy straw and watching the sun fade away below the horizon are closer than you think. And while you plan on being a beach bum to the max, bouncing around a few tropical vacation outfit ideas is a must. You need options for your endless hours of lounging between surfing lessons and adventurous excursions.
A tropical vacation is the ultimate time to wake up and smell the pineapples. Any vacation makes you want to pack every cute outfit you own, but those baggage fees are no joke. You'll need the essentials, but also those not-so-basic, vibrant outfits that are going to make your 'Gram followers swoon over all the tropical feels.
Your vacation is going to be full of so many new and exciting experiences. You should be able to trace it back to the tactfully thematic outfit you picked out. You may not be able to bring back the same warm, relentless sunshine, but your pics will certainly light up your feed. You might already have one foot out the door and in the sand, but you might want to reassess your luggage and add these last few items into the mix.