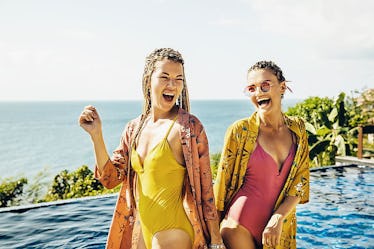 If You Haven't Done These 8 Things With Your Sis In The Summer, You Need A Redo
Summer has so much more meaning when you're sipping on a lemonade and getting sun-kissed at the beach with your sis. Even when you two were kids, summers were marked by your carefree and spontaneous attitudes. The two of you are unstoppable together — and when you factor in such a glorious season like summer, good times are inevitable. You could write a book on all of the things to do with your sister in the summer, because the list could go on forever.
Instead of worrying about who to make plans with, you can always count on her to be your designated plus one. Besides, the two of you have grown up together — and by now, you know all of the things that'll amplify your moods. Having a sister is like having a little battery in human form that will get you super hyped up when the time is right.
In the summer, it's hard to contain those feelings of wanting to get into absolutely everything. Luckily, she has never and won't ever hold you back. There's still time to get your ideas and plans together for another dope summer with your sis — but if you haven't done a select few things yet, you are going to want to jot these down.