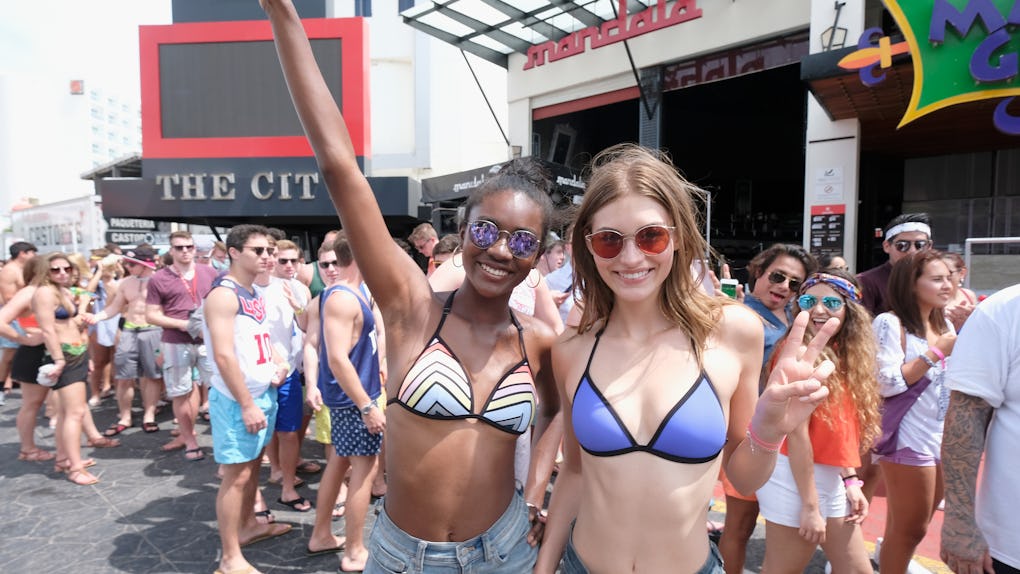 Dimitrios Kambouris/Getty Images Entertainment/Getty Images
8 Spring Break Travel Hacks For Students Who Are Broke AF
What could be worse than being a broke college student? Being a broke college student during spring break! Imagine opening Snapchat to see everyone and their mother at that fun beach party in Cabo. Just wait until you scroll down your Instagram feed to see non-stop photos of your entire squad at that fancy ski lodge in Colorado. It won't help to know that you're sitting at home, scrolling away as it seems like the entire world is having the time of their life. Let's be real, you may very well decide to go on a social media cleanse as soon as class lets out. Seeing your friends' spring break photos up and down your social media feed would give anyone serious FOMO. Thankfully, there are some spring break travel hacks for students who are broke AF.
Outside of the lecture halls and all-nighters, being a student definitely has its perks. On the one hand, you've got a community of fellow students who are game to ball on a budget just like you. On the other hand, there are a variety of companies that understand the struggle of being a broke college student. With a bit of planning and student-exclusive knowledge, you can still have an epic spring break
1. Book Early
2. Get Your Squad Together
Spring break is probably not the best time to travel solo if you're broke AF! You'll have much more fun and save a ton of money along the way if you can split lodging, food, and car rental costs with your friends. A larger group simply means more money you'll be keeping in your wallet. Sites like STA Travel will even let you travel for free if you can gather a group a friends to join you on one of their trips.
3. Take Advantage Of Student Discounts
Sometimes it pays to be a student. Don't leave your student ID behind, because you might be able to save big on entrance fees, train passes, bus tickets, and more.
Student Universe offers student-exclusive discounts on flight deals and hotels. You can even use your student ID to shop at some of your fave stores, like Nasty Gal and American Apparel, that offer a percentage off. Get all you can out of your student status before entering the real world!
4. Stack Up On Referral Codes
Don't forget to take advantage of the many travel sites that allow you to save by sharing a code with friends. If you're traveling with a large group, you can pass around referral codes to cut even more costs on transportation, hotel costs, and flights. Do your research before you jet off to your destination. Sites like STA Travel will give you a $25 credit for recommending it to a friend.
5. PREGAME, If You're 21 And Up
If you're 21 and up, alcohol can easily end up being one of your biggest expenses. You and your crew are probably hyped about the nightlife scene, and it can be easy to break your budget if you don't watch the tab. Buying alcohol before going out and splitting costs to save big bucks is the best kind of move.
6. Head To The Beach
Consider heading to a beachside destination to avoid paying entrance fees to ski resorts, amusement parks, or museums. Grab a group of friends, a volleyball, and a few cold ones (if alcohol is allowed on the beach), and you can have a blast at no cost. Many popular beaches will throw free events to attend during the entire month of March!
7. Choose Lodging Wisely
Hotels, home rentals, and hostels each offer their own benefits. You won't go wrong choosing a home rental with a kitchen. You can buy groceries as a group to dodge the unsavory costs of eating out. If you opt for a hotel, be sure to book one that offers free daily breakfast and/or happy hour specials. Last but not least, hostels will probably offer you the most savings. Plus, if you're going solo, a hostel will give you the opportunity to meet new people and potentially make lifelong friends.
8. Take A Roadtrip
Cut flight costs out entirely by taking a road trip to a nearby city. You'll save even more if you can split gas costs with a car full of your favorite people.
If you live in Texas, you can't go wrong heading to South by Southwest Music Festival, which hosts its own lineup of free concerts during spring break. You don't have to have an extravagant seven-day-long spring break trip. A weekend road trip to a nearby city or state will do the job — and you'll make awesome memories in the process.
Whether you choose to go abroad or keep it local, there are so many ways to save big on spring break as a student who is broke AF. Get a little strategic so you don't miss out on the quintessential college experience.