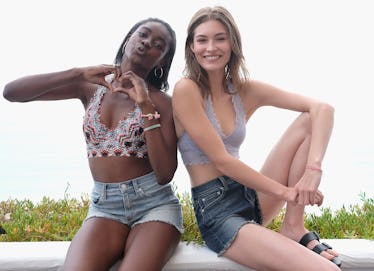 These Spring Break Hotel Deals Are Unbeatable For A Fab Trip
Dimitrios Kambouris/Getty Images Entertainment/Getty Images
Spring break getaways are always super fun, but unless you're camping or couch-surfing, staying in a hotel can be hella expensive. That is, unless you happen to find a stellar deal. Since spring break is prime time for college students and young adults alike to embark on a magical, flip cup-filled journey, hotels often offer sweet packages around spring break time, and I've taken it upon myself to find all of you five spring break 2018 hotel deals. So get ready to relax, party, and repeat... and to not worry about that cash money.
Imagine this: you're at the airport, and you're about to board a plane with a bunch of your friends. You're making plans, in preparation for the trip of a lifetime, and... surprise! You don't have to worry about a severely depleted bank account. I'm vicariously feeling this right now, because I'm finding more deals than you'd imagine on hotels around the world for the upcoming spring holiday. Even though taking a trip obviously isn't as cheap as it is to stay home, traveling on a budget is basically a dream come true — and let's be real, there's seriously nothing better than a change of scenery every once in a while.
1. Hotel BLUE, Myrtle Beach, South Carolina
Groupon is offering stays for two in an oceanfront efficiency or ocean-view two-double bed room at Hotel BLUE in Myrtle Beach starting at $29 per night. The hotel has beach access, and guests can visit the giant ocean-view pool (which has a swim-up bar... dreams), as well as an indoor lazy river for tubing, a 20-lane bowling alley, and an entire entertainment center. It sounds pretty sweet, and the deal is available until March 13 for available dates through June, so I'd recommend booking it now.
2. Holiday Inn, Daytona Beach, Florida
Daytona Beach is a prime destination for spring break, with days spent at the beach, and nights spent at all of the sweet bars... plus there's a lot of other young people. The Holiday Inn on LPGA Boulevard is offering four-person rooms for $115 per night (which ends up being about $28.75 per person, per night... which is pretty great). You just have to be an IHG Rewards Member, and per their website, it's free to join.
If hiking is more your speed, Groupon is offering $219 four-person rooms, for two nights in Yosemite View Lodge. The best part is not only that the room has a river view, but the deal includes an adventure backpack, including Yosemite playing cards, a water bottle, a keychain, and a multifunction wallet-sized tool. Guests also have hot tub and pool access, so you can relax after a long day on the trails. Per Groupon, book through March 16, for a trip anytime through March 27.
4. Club Med, Ixtapa Pacific, Mexico
Club Med is all-inclusive, which means drinks, food, and activities are included with your booking fee. Club Med's resort in Ixtapa Pacific, Mexico, is offering a pretty sweet deal of $168 per adult per night, for the week of March 18. Per the website, the rate would be $306 per night, but the deal came in clutch to bring us lots of sun, sand, tacos, and, most importantly, margs.
Hotel Husafell is offering a four-day stay and activity package for $435 per person, filled with several sweet adventures, as well as three nights of accommodations. Guests will be brought to thermal pools and nature baths, as well as ice cave and lava cave tours, upon request. Now is also a great time to see the Northern Lights, per the site, so it's definitely worth going for spraaang break.
Whether you define spring break as an endless string of wild parties, a giant sightseeing excursion, or just a period of time to relax in the sand, you don't need to sell your organs in addition to everything you own just to stay somewhere for the greatest time of year. These deals are here to save all of our breaks, and I'm getting some serious FOMO right now.