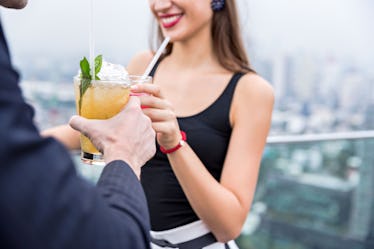 A Bartender Reveals 8 Clues That Make It Obvious You're On A First Date
When I think of the phrase "first date," several things immediately come to mind — jitters, small talk, and drinks. During a first date, you're focused on getting to know this perfect stranger, being charming, and enjoying yourself, but you might also be distracted by thinking of how many people around you are wondering if you guys are on a first date. Well, they might not be wondering — they might know! There are tell-tale signs signs it's a first date, according to bartenders. Of course, obviously being on a first date isn't a bad thing. In fact, it can sometimes earn you goodwill from your bartender in the form of an extra stiff pour!
While the bartender is mixing up your Greyhound or Tennessee Mule, they're also noting your body language, conversation, and general vibe. I love people-watching as much as the next gal, and I love trying to scope who's on a first date when I'm out for drinks. I spoke to several bartenders across Los Angeles who happily shared the clues that reveal you're braving a first date and even though I fancy myself a pro at identifying first daters, some are pretty surprising.