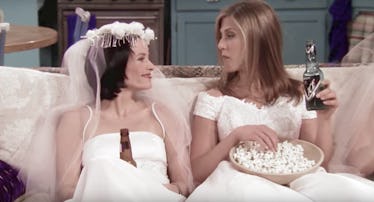 8 Rachel & Monica Moments From 'Friends' That Will Make You Love Your BFF Even More
Whoever titled the show Friends should really get an award. To this day I have yet to see a more accurate representation of adult friendship than on this appropriately named show. Some of the Rachel and Monica moments from Friends are the epitome of friendship, and watching them always reminds me just how much I love my bestie and all she does for me.
Even though my BFF and I may have some differences, she adds so much to my life that I am so grateful for. When I am crazy, she is calm and steady. When I am in a routine, she adds something unexpected to my life. She's basically the yin to my yang, or the Rachel to my Monica.
We've most definitely experienced some of the exact moments Monica and Rachel have shared throughout the years. Watching them play out on TV is like reliving a moment of my life, which makes the show and the friendship between Monica and Rachel that much more relatable. Nearly every episode reminds me of a time with my bestie, which means each episode is a road trip straight down memory lane. If you're ready to get nostalgic about the times you've shared with your BFF, read on. Monica and Rachel are true #FriendshipGoals.