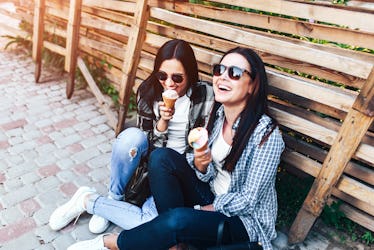 8 Promises To Make With Your Best Friends Now & Keep For A Lifetime
Good friends aren't easy to come by, and that's why when you've locked in a BFF, you are holding onto it until the end of time. Your best friend is your lifeline, and even when the world seems so ugly and cruel, she is always your silver lining. You've kept each other's secrets, and most importantly, haven't broken any promises. There are specific promises to make with your best friends that you'll seriously keep for a lifetime, no matter how young you were when you originally made them.
These promises are ones that usually umbrella a bunch of smaller promises. You don't need a playbook to keep track of the promises you should keep with your best friends. When it's a big one, you'll know and you'll have all the faith in the world that they will hold up her end. It's one of the perks of having true, genuine BFFs.
Life is inevitably going to change, but your best friends will always have that same place in your life. It's nice to have something that's not going to drastically do a 360 on you. Sure, you two will grow together, but those promises without an expiration date will always remain planted in your thriving friendship.