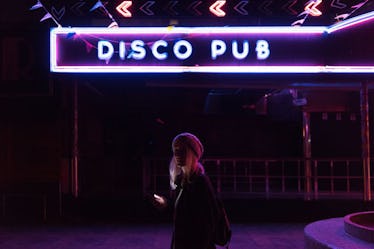 You Haven't Been 'Gramming Right Until You've Snapped These 8 Neon Signs In NYC
The 'N' in New York stands for neon signs, or at least I'd like to think so. These illuminated graphics light up the night in The City That Never Sleeps. Some of these signs simply say "open," while other signs tell a story about an establishment. These glowing signs are nostalgic, and they make us want to snap a photo for Instagram in a heartbeat. After all, what millennial can resist Instagramming a photo of bright neon pink signage? The places in NYC with neon lights are sure to brighten up your feed.
Many say a picture is worth a thousand words, so a neon sign must be worth much more. They've been around for years, so I'm excited to see these bright signs trending in 2018. They can be found restaurants, bars, shops, and even dessert shops. When it comes to neon signs, it certainly doesn't hurt that the 'Gram exists. They serve as the perfect Instagram backdrop as you sip cocktails at your favorite bar, eat tacos at that trendy food truck park, or enjoy ice cream with your besties. You'll have no problem capturing your next best food shot or profile photo with these bright AF neon signs in the background.