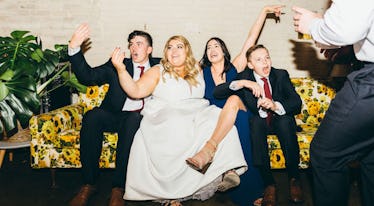 8 Wedding Crashers Reveal How They Pull Off Showing Up Uninvited, & LOL
I, admittedly, have never crashed a wedding. I've seen Wedding Crashers a million times but I'm too chicken to try it IRL, and honestly, the opportunity has never really come up. But I've always wanted to! People talk about how it's a great activity to do on a date because, hi, free drinks, good music, and what are the odds someone you don't know actually asks you, "Bride or groom?" The thing is, knowing how to crash a wedding without getting caught is kind of an art, and in order to avoid any awkward encounters or close calls, you have to know how to get by.
Imagine just casually going to a hotel bar for drinks and stumbling across a group of bridesmaids on their way to a reception. Or coming across a bride in head-to-toe white taking photos outside a gorgeous church. Do you join in and try to pass as part of the crowd, or do you silently wish them well and carry on your way? I've always picked the latter, but after reading these expert accounts from the wedding crashers of Reddit, and from people who've seen others crash weddings successfully (or unsuccessfully), I'm starting to think that maybe next time, I'll slip on a pair of heels and join the party. Here's how they've done it, without getting caught.