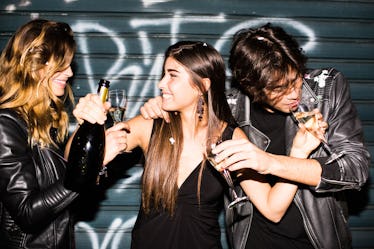 8 Must-Have Astrology Gifts For The Stellar Leo In Your Life
Happy Leo season, stargazers. If you haven't started celebrating, you really should start now, considering Leo is zodiac royalty after all. Speaking of which, this is exactly why I wanted to share the eight must-have astrology gifts for the stellar Leo in your life. Granted, the luscious Leo in your life could very well be you, which in that case, even better. Now, I'm not going to lie, I've always been obsessed with the zodiac, so when I saw that astrology started trending, a part of me sort of panicked. Truth is, I didn't want it to become a fad or a seasonal bandwagon everyone would jump on, and eventually fizzle out. Astrology is so f*cking magical, and it's not just about your zodiac sign either, it's about your unique light and soul purpose. It's the one thing that makes you different from everyone else.
Interestingly enough, I was talking to my Libra Aunt (and bestie) about this last night, who BTW is totally witchy, and she was saying that astrology made a big comeback, considering it was a big deal for her when she was just a teen in the early '70s. This, of course, made everything click, in terms of the revolution we're experiencing. Although, the thought of this celestial age solely being a comeback still terrifies me. However, I'm still happy to have been able to experience it first-hand either way. So much so, that I'm going to use this article as a message to the universe: Astrology is alive and breathing. It's not going anywhere.
That said, here's a look at my top fave zodiac gifts for the Leo in your life:
Zodiac Necklace
How perf is this necklace? Personally, I love layering my accessories, but I also really love how adorably quaint this is. Also, Leo is extra AF, so you best believe, they want everyone to know they're zodiac sign. (P.S. - Good luck walking into Urban Outfitters. Last time I shopped there, I came home with a bag of toys! Yes, it's the Toys "R" Us for Millennials.)
Zodiac Body Oil
THIS. OK, real talk, I actually have two of these babies, and both scents are beyond magical. Trust me, your Leo love will not be disappointed. Now, the best part about this sacred oil is, the scent helps you tap into the positive side of Leo: confidence, romance, leadership, etc. The cosmic elixir also comes with a quartz point, to keep your blend crystal-charged, which in turn, enhances your highest power. (I know, I live for Magick Moods.) The Leo body oil includes the following notes: jasmine, grapefruit, anise, musk, and bold.
Zodiac Bracelet Cuff
This zodiac cuff is so chic. Aside from the fact that it's totally gorgeous, I also love that you can wear it with absolutely anything. Your Leo bestie can totally rock this on the night of her birthday, and again for brunch the following morning when she's sippin' on some bubbly. Also, the cuff is totally adjustable, so make sure you decide how to want to wear this baby. Personally, I'd love to wear it on my arm close to my shoulder, to give it a gypsy vibe, but that's just me.
Crystal Facial Roller
Raise your hand if you love rose quartz? (I'm totally raising my hand.) So, we all know that Leo is a looker, so why not gift them something to enhance their sun-kissed money maker? The rose quartz facial roller is a must-have, not to mention an ancient beauty ritual. Rose quartz helps ease tension, while increasing self love. Now, if you've read my previous articles where I mention Leo, you're probably well aware that Leo rules the heart. Well, interestingly enough, the rose quartz corresponds to the heart chakra, which is considered the energy center of love. Need I say more?
Leo Lipstick
Nothing says Leo more than this gold lamé lipstick, and incase you weren't aware, Leo loves to make an entrance. Plus, Leo is ruled by the sun, and this lip color truly embodies their ruling planet.
Zodiac Tee
I love this. Seriously, adding that AF at the end makes it so much more legit. Trust me when I tell you, your Leo babe wants the whole world to know her zodiac sign. You'll thank me later.
Zodiac Mini Candle
Confession: I've bought like three of these zodiac candles, just because they smell that good. I know, I'm an astrology geek. Who buys their sun, moon, and rising sign? Don't judge me.
Celestial Ring Dish
So gorg and majestic! Plus, every girl needs a ring dish. It's seriously the most convenient piece of decor you will ever purchase - I promise you that. Although, with time, it becomes a bracelet, earring, and misc. dish, too. It's dainty, unique, and incredibly useful.