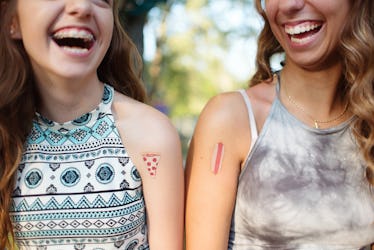 8 Micro Tattoos To Get With Your Best Friend, Because She's Your Number One
You've known your best friend for what seems like eternity. You've been there for each other through heartbreaking breakups, and exciting promotions in your careers. You've seen each other's literal ups and downs. You've fought, you've disagreed, and you came out on the other end still forever strong. In my opinion, that deserves some celebration. Sure, you could go out to dinner or marathon your favorite Netflix series with a bottle of rosé, but you probably do those types of plans on the regular (At least, I know my best friend and I do.) Instead, consider hitting up a tattoo shop, and gain some inspiration from these cool micro tattoos to get with your best friend.
Micro tattoos are the trend sweeping all of my social media timelines, and I'm so here for it. I've always loved tattoos, but there's a special place in my heart for particularly tiny, simplified pieces of artwork. What's more, they tend to make pretty much the perfect best friend tattoos.
These subtle tattoos aren't big in size, but they come with so much meaning. You can also place a micro tat just about anywhere on your body. The possibilities for designs are pretty much endless; you can get whatever speaks to your friendship the best. However, I'm partial to these eight micro tats, and you just might be as well.