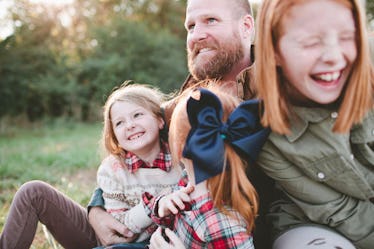 8 Little White Lies Your Dad Told You Growing Up That Are Hilarious Now
We all know lying isn't a good behavior to learn when you're a kid, but as you get older, you realize the tiny, harmless lies your parents may have told you that are seriously golden. Mom and Dad probably twisted the truth about a few little things a few times, and now you see how ridiculously funny they actually were. Needless to say, you can't help but laugh at the little white lies your dad told you when you were a kid.
Your dad may never actually admit that he lied to you, which makes pestering him about those times even funnier. You know in your heart the reasoning behind your dad's white lies usually stemmed from wanting to protect you. Or, let's be real — he needed a little bit of a break from something you kept asking him about. Kids can be incredibly persistent, and you know it. You might even take notes and use the same Jedi mind tricks on your kids someday, because you can feel the exhaustion already. So, if you know your dad told you a fib or two when you were growing up, a few of these white lies will sound all too familiar.