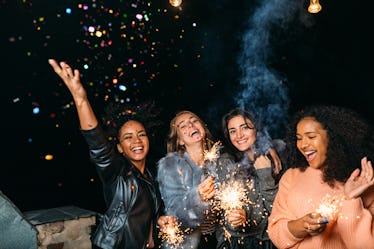 8 Last-Minute Things To Do This NYE That Are Easy & Actually Fun
Shutterstock
Now that the year is coming to an end, it's time to put all your focus on New Year's Eve. Unfortunately, you don't have much time in between all the holiday parties, shopping, cookie swaps, and potentially the biggest party night of the year. You may be scrambling around, trying to figure out some last-minute 2019 New Year's Eve plans. Rather than stressing out trying to pull together a big bash, sit back and think about these fun and easy ideas that are right under your nose.
There's really only one thing required to complete the perfect New Year's Eve: being surrounded by your favorite people. That could be your friend group, partner, or your family. A text and a simple plan of something to do when the clock strikes midnight is all you need to worry about.
If you're blanking on ideas, here are eight plans that are quick and easy to throw together. They're so much fun that your friends won't even notice it took you so little effort to pull everything together. 2019 marks the end of a big decade, and you want to make sure you're saying goodbye in style. Have fun and make way for 2020.