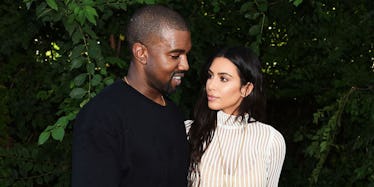 8 Kanye West Quotes About His Relationship With Kim Kardashian That Are #Goals
Jamie McCarthy/Getty Images Entertainment/Getty Images
Even though we don't see much of Kanye West interacting with his wife Kim Kardashian West on Keeping Up with the Kardashians, the rapper has made his love for his wife well known throughout the years. These Kanye West quotes about Kim Kardashian show he doesn't need to be on reality television for the world to know how much he adores his super-successful counterpart.
The wildly famous couple knew of each other for a long time – West noticed her back in her days working as Paris Hilton's stylist in the mid-2000s. But it took some time for the two to eventually come together. It wasn't until after Kardashian ended her shortly-lived marriage with basketball star Kris Humphries for the reality star to begin dating West.
Now, the pair is married with three children, North, Saint, and Chicago. Here's what he has said about his wife.
He puts her above all else, including First Lady Michelle Obama in this 2013 interview with Ryan Seacrest:
There's no way Kim Kardashian shouldn't be on the cover of Vogue. She's like the most intriguing woman right now. She's got Barbara Walters calling her like every day. And collectively we're the most influential with clothing. No one is looking at what [President Barack] Obama is wearing. Michelle Obama cannot Instagram a pic like what my girl Instagrammed the other day."
(Even though IMO, Michelle Obama could very well Instagram whatever she wants.)
When W magazine interviewed West back in June 2013, the two were not yet married, and West's fashion influence on Kardashian was growing apparent. But he assured the reporter that what his then-girlfriend, now-wife wants to do, she will do.
Nobody can tell my girl what to do. She just needed to be given some platforms of information to work from. One beautiful thing is that as she discovers it, the world discovers it. For her to take [a] risk in front of the world, it just shows you how much she loves me. And how much she actually loves the opportunity to learn. You got, like, a million companies saying, 'This is impacting your brand! This is impacting your fans! And blah blah blah.' But she still sees this light of beauty.
In an interview with GQ, West revealed that we all could learn a little something from Kardashian:
One of the reasons why I think that me and Kim are very powerful together isn't just the concept of celebrity or this mega rap star and this mega-beautiful pop [culture] star. It's something I explain to my girl: She is who she is. I am who I am. We have advisers and friends and everything, but those people are who they are and we are who we are. And what I had to learn from Kim is how to take more of her advice and less of other people's advice. There's a lot of Kim K skills that were added. In order to win at life, you need some Kim K skills, period.
West believes he and Kardashian at one point were star-crossed lovers, comparing his then-girlfriend and himself to one of Shakespeare's most famous plays. In a Hot 97 radio interview, West said:
Our love story's a love story for the ages. I felt like when we first got together, it was like a 'Romeo and Juliet' kind of thing, where it's like, she's a reality star and I'm a rapper, and people talk about how our brands connect and what doesn't fit. And I'm just so tired of the conversation of brands."
In the same interview, West admits he knew Kardashian was the one for him from the first time he saw her, even though he did not know how to pronounce her name:
I loved her from the first day I saw her, which I said on 'Bound.' I remember seeing pictures of her and Paris Hilton in Australia, and I came to Don C., and I was like, 'Man, have you ever seen Kim Kardishawn? What's up with Kim Kardishawn?'
West apparently lived in a fantasy where he thinks he wife's beauty is under-appreciated, which he talked about in the same interview as above:
Okay, ladies and gentlemen. All barber shops, fashion designers, architects, corner stores, Wall Street, all over the world. Y'all acting like this ain't the most beautiful woman of all time! I'm talkin', like, arguably of human existence — the top 10 of human existence.
Pretty sure most of us agree with you, Kanye. Your wife is stunning ... we know.
Back when Kris Jenner had a talk show (an icon in her field, TBH), her son-in-law West stopped by to chat. He said:
There's times when I wasn't with [Kim], I wanted to be with her so bad I thought about taking up sports.
West here was referring to the fact that Kardashian had a history of dating basketball players.
He believes in her star power, and told Jimmy Kimmel the following on his show:
There's no way a Kim Kardashian shouldn't have a star on the Hollywood Walk of Fame. Everyone is so dated and old-fashioned.
It's clear West places his wife above all else. And as her husband, that's exactly how it should be.
Check out the entire Gen Why series and other videos on Facebook and the Bustle app across Apple TV, Roku, and Amazon Fire TV.
Check out the "Best of Elite Daily" stream in the Bustle App for more stories just like this!