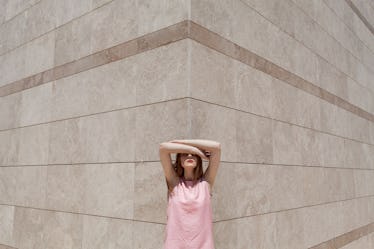 These Cool Hotels With A Minimalist Aesthetic Will Give Your Friends Insta Envy
When you pick a place to travel, there are many things to consider. After I've decided on a destination based on activities and culture, I usually start planning my trip by looking at airfare, and of course, a hotel. Though I am often of the mindset that all I need is a place to sleep and shower when I'm traveling, sometimes, I like something a little more bougie. I live for modern, minimalist hotels that look like they were copy-pasted from an architectural magazine, so I've rounded up just a few of my bucket list Insta-worthy minimalist hotels that I plan on visiting one day.
Minimalist hotels have an alluring quality to them that makes you really want to explore them. They're built with adventure in mind, so every corner you turn and every hallway you walk down gives you something cool to photograph.
Not only do minimalist hotels make for an awesome room tour on your Insta stories, but they're bound to have plenty of spots for you to snap some content for your feed. The best part is that minimalist hotels are everywhere, from the beaches of Mexico to the southwestern tip of Australia.
So if you're ready to plan your next big adventure and want to experience some seriously chic hotels, check out these spots ASAP.