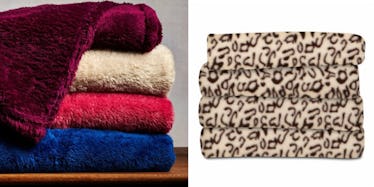 8 Hygge Throw Blankets Under $50 To Snuggle Under For All The Cozy Feels
Berkshire Blanket & Home Co/Target
There's no doubt about it: We are in the coziest time of the year here in the northern hemisphere. Even if you find winter to be a dark, dismal time, and you're currently counting down the days until spring finally shows its flower buds, you must admit that there's nothing quite like curling up in a robe and a luxurious blanket with a book in hand while the wind and snow roars outdoors. It's that hygge life, you know? So, as a favor to all you winter-lovers (and haters), I'm here to help you locate some hygge throw blankets to make your time on the couch as sweet as can be.
And if you're feeling a little guilty for needing that extra cozy time during these darker months, please don't. There's a reason we feel generally sleepier this time of year, and it has a lot to do with the shifts in light.
As Dr. Brad Lichtenstein, N.D. chair of the Homeopathy Department at Bastyr University's School of Naturopathic Medicine, told AccuWeather, "Light directly impacts the pituitary, which secretes melatonin." Melatonin regulates your sleep cycles, so the less exposure you have to natural light, the more melatonin your body makes. During the summer, your body generally produces less melatonin, so if you have trouble winding down during that time of year, that's probably why.
But if you, like me, are all about getting super relaxed in the winter, do yourself a favor and make the experience cozy AF with any of these heavenly, hygge-inspired throw blankets.