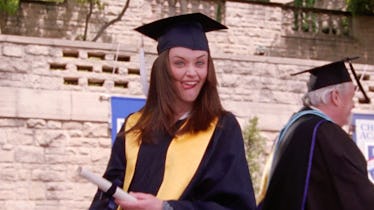 8 Graduation TV Episodes That You'll Want To Watch Before You Take Your Cap & Gown Off
Warner Bros.
Play that "Pomp and Circumstance" march with pride — graduation season has arrived. Actually, if you're a teen of the early 2000s, play Vitamin C's "Graduation (Friends Forever)," because that weepy jam will really hit home. This is a time of year that marks the end of years of studying and celebrates new beginnings. What better way to prepare for the next chapter of your life than by watching television? If you want to get pumped to turn that cap tassel to the other side, there are a lot of graduation TV episodes to choose from. Pro tip: You can watch these episodes even if your 20th high school reunion is coming up. There's no expiration date.
Television has tackled the whole saying goodbye to school thing for decades. With so many teen shows out there, it's only inevitable that the milestone eventually comes up. Most of the memorable episodes have to do with leaving high school, but the freeing feeling of throwing that cap in the air translates even if you happen to be bidding adieu to college. Audiences have watched many beloved characters graduate over the years. In fact, the main characters typically have a way of being valedictorian or giving that final commencement speech. Funny how that works in TV land...
1. Saved by the Bell, "Graduation" (Season 4, Episode 26)
After years of pulling stunts that probably should have gotten expelled, Zack graduates Bayside High by the skin of his pearly white teeth. Not only does he get his diploma, he makes a stirring speech after Jessie and Screech duck out of their speaking duties, because in an entire senior class of students this TV show always makes it seem like the main characters are the only people to matter.
2. Gilmore Girls, "Those Are Strings, Pinocchio" (Season 3, Episode 22)
Rory is valedictorian of the very competative Chilton, because of course she is. She turns her speech into a tribute to her mom, but all is forgiven because it's absolutely heartwarming.
3. Gilmore Girls, "Lorelai's Graduation Day" (Season 2, Episode 21)
Gilmore Girls technically has three graduation episodes — there's the one in the final season where Rory graduates Yale, but honestly it's the worst of the bunch except for the fact that Logan weirdly proposes. It's hard to not recommend Season 2's standout where Lorelai finally completes business school and Rory can't get there in time (gasp!) because she's chilling in New York City with bad boy Jess. Classic.
4. Modern Family, "See You Next Fall" (Season 2, Episode 23)
Out of all of the Dunphy kids, clearly Alex is the one who would be asked to give a graduation speech.
5. Gossip Girl, "The Goodbye Gossip Girl" (Season 2, Episode 25)
Gossip Girl is always full of Upper East Side drama and its graduation ep is no exception when Gossip Girl sabotages the festivities with a blast that gives some choice class superlatives for Blair, Serena, and the plaid clad prepster posse.
6. Beverly Hills, 90210, "Something In the Air" (Season 3, Episode 28)
Does the line "Donna Martin graduates" mean anything to you? Please watch this iconic episode either way.
7. Suite Life on Deck, "Graduation on Deck" (Season 3, Episode 22)
Granted, Zack and Cody have been living it up on a ship all these years, but even they deserve to commemorate all the "work" they've done throughout their academic career thus far.
8. Boy Meets World, "Graduation" (Season 5, Episode 24)
This is the episode where Topanga proposes to Cory in the MIDDLE OF THE CEREMONY. Thank you, '90s TV, for making my life and giving me fictional unforgettable romantic high school moments to cling to 4 EVA.