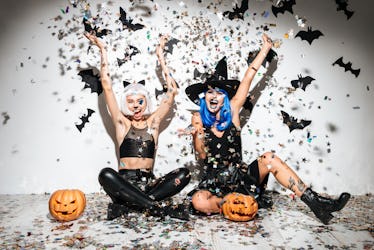 8 Basic Betch Costume Ideas To Inspire You & Your Girl Crew
You and your girls know the importance of making the most out of any holiday. For Halloween, though, sometimes the best ideas aren't as extravagant as people think they are. Keeping it basic is oftentimes the best route to go. Funny basic betch Halloween costumes are usually last-minute get ups that allow us wiggle room to delegate time to other aspects of our Halloween debauchery.
Who says Halloween has to be all about the flashy bling? Putting together something simple for you and your girls to synchronize will be worth the minimal time you had to spend. Halloween festivities are about dressing up, but they're also about being mobile enough to bust a move no matter where you are. Basic betch costumes have a high success rate of being incredibly easy to put on and move in.
We all know what these basic costumes are, and as much as we sometimes dismiss their simplicity, we secretly love that the idea exists... even if it wasn't from our own brilliance. This year, focus more on the fun and assemble something that puts the ease in your decision making. Your girls will thank you later. There's no basic costume hotline to phone in, but for the most part, these get ups fall into that category.