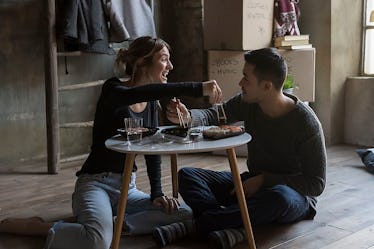 The Best Foods To Help You Relax When You're Stressed Out, According To Science
If you're absolutely starving and simultaneously stressed out, it can be a pretty dangerous combination. You might end up grabbing the closest snack you can find, and ultimately end up unsatisfied with something that will leave you hungry in an hour. On the other hand, you could choose from one of the foods that actually help you relax, therefore killing two birds with one stone.
Each food you eat has a totally different makeup of chemicals, nutrients, hormones, and more. So it follows that some foods might contribute to calming you down, and others might make you feel more stressed out. For example, if you scarf down a donut, you'll reap the benefits of that classic sugar high, but you'll probably feel the sabotage and stress of a brutal sugar crash not too long after you're done eating.
Instead of just grabbing the closest bag of chips, consider what you can eat that might help you chill out and take a breather instead. Food is a powerful tool for relaxation, if you choose your meal wisely.
Rest assured, there's a huge variety of food options to help you relax in a healthy way. When you're feeling so stressed you can barely think, consider one of these eight food options to help you calm down.