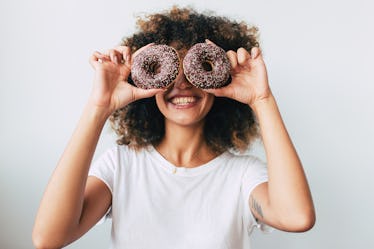 If You Spent All Night Tossing & Turning, Eat These 8 Foods To Help You Stay Awake
Everyone's had that scary moment at work when they're absolutely terrified that they're about to fall asleep at their desk. For some people (ahem, me), this happens at least once a week; 1 p.m. rolls around, and all of a sudden, your eyelids start to feel too heavy to keep open. Before you know it, you're drooling against your desk, and your boss is standing over you asking if you're ready for that 2 p.m. meeting. If this has ever happened to you, it might be time to pull out the big guns and start eating foods that keep you awake, no matter how poor your sleep was the night before.
Since all foods have a different chemical makeup, it follows that some might be better for your overall energy and wakefulness than others. When you're looking for energy-boosting foods, you want to avoid simple carbohydrates, like pasta, or anything with a ton of sugar that will make you feel really energetic for a short time, then lead to a crash an hour later.
The best, most energizing foods are those that are easily metabolized, and that work to aid you in converting your nutrition into energy, rather than get in the way of that process. Here are eight foods that'll help keep you awake, even after the worst night of sleep ever.