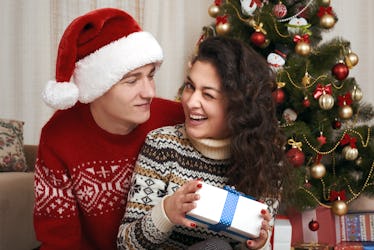 8 Best Experience Gifts For Your Boyfriend For Christmas That Don't Need A Big Red Bow
One of the best gifts you could give just about anyone on this Earth is the gift of an experience. While it's not something you necessarily unwrap, it's the gift that keeps on giving with memorable excitement and joy. The best experience gifts for your boyfriend are the ones you don't really have to place under the tree, because you'll actually be out there experiencing them.
You can never forget an experience that was gifted by one of the most endearing people ever. This certainly works in your favor, ladies. Not only will your beau adore the fact that you wrapped their gift around a pastime they're passionate about, but you may even be buckling up for the ride with them. It'll be a gift for you to see the look on their face as they experience what you gave them, and you'll give yourself some extra pats on the back for a job well done.
You'll always be embedded in that experience, even if you aren't right by their side while they're indulging in the fun. Dang, look at you being all selfless! Let your gifts and your mindset be outside the box this year when you're revealing to bae what their present is.