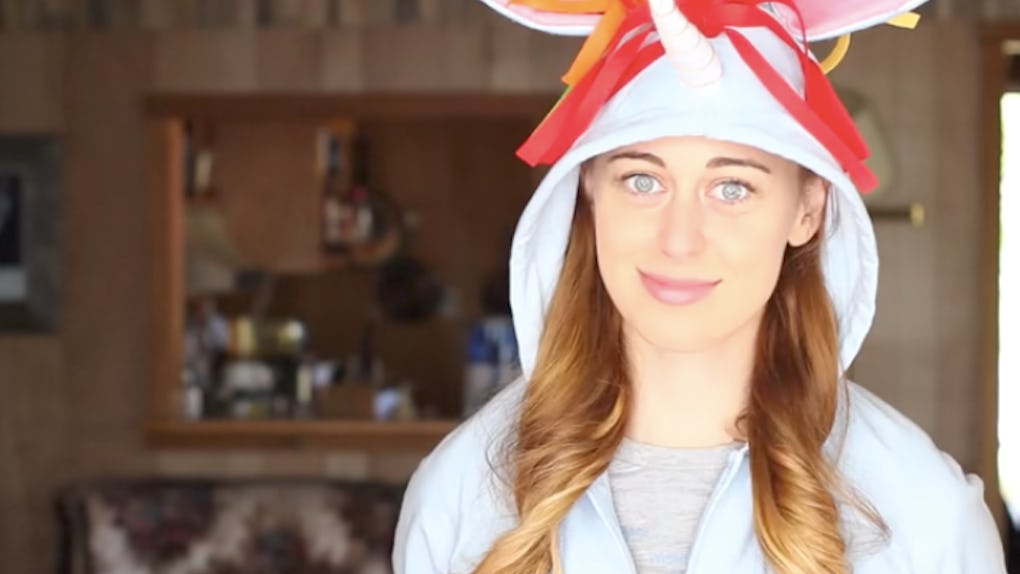 YouTube
8 Easy & Cozy Halloween Costumes With A Sweatshirt Every Lazy Girl Will Be Here For
The good news is that Halloween is a little over a week away, but the bad news is also that Halloween is a little over a week away. If there's a critical period for putting together your costume, this is it. Now's the time when stress levels are rising, and the pressure is so on. More often than not, if you don't have a costume now, it's pretty hard to find a good one, let alone a costume that allows every lazy girl to live her best life. But, don't worry, because there are a ton of simple Halloween costumes with a sweatshirt you can put together within a matter of minutes.
I don't know about you, but one of my biggest struggles in choosing a Halloween costume is that every costume takes a lot of work, and more than that, every costume tends to be uncomfortable, itchy, constrictive, or a horrible combination of all three. It always ends up being way too much work to gather my array of costumes (because in college, people expect to you to have several), and wear them, only to take them apart, never to be used again. Not to mention, most costumes are not meant for the freezing Halloween weather. TBH, it's kind of a lazy girl's nightmare.
Luckily, that doesn't have to be us this year, ladies. Instead, we can be cute, comfy, and warm this Halloween with one easy hack that is the sweatshirt Halloween costume. It's simple, it's quick, and it's painless. Keep reading for eight ideas for your easiest lazy girl Halloween costume yet.
1. Ariana Grande (Street Wear-Inspired)
Channel the princess of pop with this Ariana Grande-inspired look. Pair your sweatshirt with Grande's iconic high ponytail and some super cute over-the-knee boots, and you are set to slay any party plan. Work it, girlfriend.
2. An Actual Sick Day
This is your literal dream, lazy girls. Not to brag, but like, "An Actual Sick Day" is a genius Halloween idea. It's a very subtle combination of getting out of bed and putting in zero effort. Keep your hoodie on, carry a box of tissues, and work the hell out of your messy bun.
3. Netflix And Chill
This costume requires your best friend, so give her a call and let her in on the details. Grab or thrift an oversized sweatshirt and DIY the Netflix logo for the front of the shirt. See, you're the epitome of Netflix and chill (kind of). A pair of fuzzy slide sandals and a fun bow for your hair definitely complete the look you're going for.
5. DIY Pikachu
Any Pokémon fans out there? I don't know a ton about the fandom, but anyone can recognize Pikachu from just a glance, which is what makes him a perfect costume. DIY a yellow sweatshirt with ears and eyes, then pair it with your favorite jeans and pair of Converse.
6. Thing One (Or Thing Two)
You can't go wrong with a Dr. Seuss costume, especially when it comes to A Cat in the Hat. Thing One and Thing Two are really easy ideas. All you need to do is get some felt and sketch out the labels, then fabric glue them onto a big red sweatshirt.
7. A Glorious Unicorn
How cute is this unicorn sweatshirt? Unicorns are the trendiest of trends, so you get costume points for being relevant and cute. Pair it with some unicorn accessories, like this magical face glitter, and you'll be spreading the joy wherever you go.
8. A Member Of The "A" Squad
This is a costume for those of you who just can't let go. I'm looking at you, Pretty Little Liars fans (but no judgement; I'm still not over it, either). This costume is the easiest on this list, but it also somehow seems the most legit. Pair your black sweatshirt with some signature red lips as an homage to the original "A" uniform.