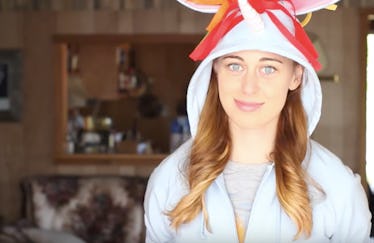 8 Easy & Cozy Halloween Costumes With A Sweatshirt Every Lazy Girl Will Be Here For
The good news is that Halloween is a little over a week away, but the bad news is also that Halloween is a little over a week away. If there's a critical period for putting together your costume, this is it. Now's the time when stress levels are rising, and the pressure is so on. More often than not, if you don't have a costume now, it's pretty hard to find a good one, let alone a costume that allows every lazy girl to live her best life. But, don't worry, because there are a ton of simple Halloween costumes with a sweatshirt you can put together within a matter of minutes.
I don't know about you, but one of my biggest struggles in choosing a Halloween costume is that every costume takes a lot of work, and more than that, every costume tends to be uncomfortable, itchy, constrictive, or a horrible combination of all three. It always ends up being way too much work to gather my array of costumes (because in college, people expect to you to have several), and wear them, only to take them apart, never to be used again. Not to mention, most costumes are not meant for the freezing Halloween weather. TBH, it's kind of a lazy girl's nightmare.
Luckily, that doesn't have to be us this year, ladies. Instead, we can be cute, comfy, and warm this Halloween with one easy hack that is the sweatshirt Halloween costume. It's simple, it's quick, and it's painless. Keep reading for eight ideas for your easiest lazy girl Halloween costume yet.