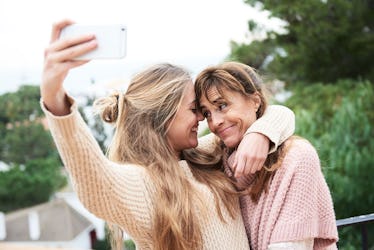 8 Chances You Need To Take For A Happier Life That Mom Told You About All Along
Since day one, Mom has encouraged you to accomplish anything you set your mind to. She's a natural-born cheerleader — and not only from the sidelines of your little league games back in the day. Her pom-poms are set to root for you throughout your entire life. She'll motivate you to be brave about risks, and all of the chances you need to take for the best life you can live. Your happiness is so important, and it has been her top priority ever since she first laid eyes on you.
Growing up, you probably didn't notice that she's been pushing you to achieve greatness all along. When that little voice in your head was convincing you that you couldn't do something, your mom counteracted it with her words of wisdom. In her eyes, there's nothing you can't do, and if she has to remind you of that in adulthood, she surely will.
Remember when you didn't think you'd make friends at your new school? She told you to be yourself, take a chance, and extend your friendship first. You might have been shy and nervous, but your table at lunch was never empty again. You have to admit that Mom was right about a lot of things, especially when it comes to taking these eight chances in life.