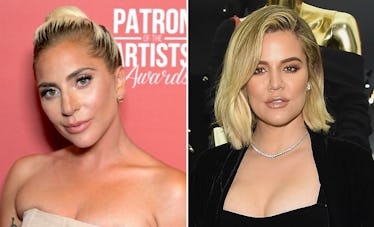 8 Celebrities That Are Helping Out During The Devastating California Wildfires
Jamie McCarthy/Getty Images; Charley Gallay/Getty Images
The California wildfires continue to take lives and devastate thousands of acres of property as they tear through both ends the state. The death toll stands at 59 as of Nov. 15, with dozens still unaccounted for. In response, Hollywood stars are pitching in and doing their part to help provide relief for both the victims of the fires as well as the rescue workers who have emerged as heroes during this horrible tragedy. Here are eight celebrities that are helping out during the California wildfires with their generous donations and efforts on the ground.
Ellen DeGeneres, Sandra Bullock, and Miley Cyrus and Liam Hemsworth
On Nov. 11, Sandra Bullock donated $100,000 to the Humane Society of Ventura County to assist their animal rescue efforts. Days later, Ellen DeGeneres announced on The Ellen Degeneres Show that she had donated $100,000 to the Los Angeles Fire Department Foundation. And even though Miley Cyrus and Liam Hemsworth lost their own Malibu home last week, they turned around and donated $500,000 to the Malibu Foundation on Nov. 12, through Cyrus' charity, The Happy Hippie Foundation.
"Miley and Liam lost their home but are very grateful to be safe along with their animals!" their rep said in a statement to the AP. "Their community and state are very special to them and they want to give back to the place that has created so many beautiful memories for themselves and others."
Here's Ellen Degeneres announcing her donation in partnership with Walmart:
And here's the announcement of Sandra Bullock's donation:
Lady Gaga
The A Star Is Born actress — who was forced to leave her own Malibu home — made a trip to the Red Cross shelter at Pacific Palisades High School to talk to evacuees who've lost everything in the fires.
"This is not easy," she said in a video captured by TMZ. "I know this is not easy. And I know that a lot of you are feeling a lot of pain right now and a lot of shock and this might feel very surreal. I will pray for each and every one of you. You will be in my thoughts. I extend my love to each and every one of you. I know we do not know each other, but I love you. This is an emergency, but you are not alone."
You can watch below:
She then went on to encourage the victims to take stock of their mental health, and even provided them with hot food, coffee, and gift cards. Check out this image she shared of herself delivering pizza to the victims on her Instagram story on Nov. 13:
Khloe Kardashian
Like Like Gaga, Kardashian was evacuated from her own home in Calabasas, but that didn't stop the reality star from hitting up CVS Pharmacy to purchase water bottles, eye drops, and granola bars for the firefighters.
She shared her trip on her Instagram Story on Nov. 10, and encouraged others to donate as well.
"Here at the CVS I basically bought everything they had in stock," she said. "I know the brave men and women are working so hard, tirelessly, for all of us would greatly appreciate it. Just do whatever you can, even if it's one bottle of water, one container of eye drops, one granola bar, anything, I know they would appreciate it."
Bethenny Frankel
On Nov. 12, The Real Housewives star tweeted that she and her B Strong team were "on the ground to determine precisely where to expend our efforts."
She later shared a devastating image of damage done by the fires on Instagram, along with a call-out for help:
"Global Empowerment Mission and B Strong will have teams delivering aid supplies and cash cards in Southern California starting on Friday, November 16th and will be supporting the Paradise area by Monday, November 19th," she wrote in the caption. "You can drop off aid donations and supplies at this location:20463 Hart St., Winnetka, CA 91306."
If you're looking to help the victims of the wildfires, you can donate to Frankel's charity here. There are also a number of other ways you can help.
The American Red Cross has opened evacuation centers for residents and pets. The Salvation Army is providing meals and drinks at evacuation centers, and you can donate to their Wildfire Relief. United Way of Greater Los Angeles has set up a Southern California Disaster Relief Fund to support low-income neighbors. United Way of Northern California also has its own fund. The Los Angeles Fire Department Foundation is accepting donations, in order to provide hydration backpacks for firefighters. And the Los Angeles County Animal Care Foundation has set up Animal Safe trailers near Red Cross emergency shelter sites for pets who have been evacuated along with their owners.
Guy Fieri
The celebrity chef also helped out by surprising rescue workers at the law enforcement staging area for the campfire in Northern California with a delivery of his signature homestyle food.
The Butte County sheriff later tweeted photos of the surprise visit. "Thank you so much Guy for filling our bellies and lifting our spirits," he wrote.