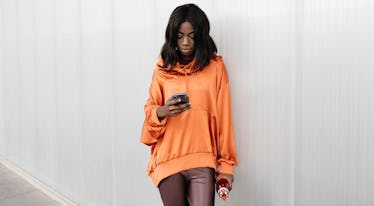 8 Brutally Honest Phases Of Getting Ghosted, Because People Are The Worst
Dating someone new only to have them drop off the face of the planet is nothing new. Being ghosted is the kind of pain that I would only wish on my worst enemy. (Sorry, not sorry.) Why, you ask? Well, even though most people objectively realize that being ghosted isn't their fault, it somehow still has the power to mess with your head in a pretty agonizing way. The phases of getting ghosted probably won't come as a surprise because we've all likely been there. You meet someone you're excited about and it seems like everything you've ever wanted out of a relationship is right on the horizon, and then... crickets.
And the worst part is that the possibility of getting closure is usually slim. I mean honestly, if they didn't have the decency to respond to your casual "are we still on for Friday?" text, then the chances of them having an honest dialogue about why they seemingly, out of nowhere, realized they never want to see you again is probably out of the question.
This is actually kind of great (even if you don't realize it right now), because you dodged a bullet. If someone isn't mature enough to be upfront about their feelings, then it's perplexing why they would think they're mature enough to even date. But as it turns out, the world is full of hot, smart, witty toddlers disguised as adults! (Kidding! Kind of.) In case it's been a while since you've felt the burn, here's a reminder of what it's like to get ghosted.