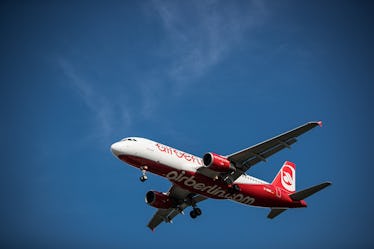 Get Your Wanderlust On With These Amazing Black Friday Travel Deals
Maja Hitij/Getty Images News/Getty Images
Travel expenses always seem to suck the joy out of vacation plans, especially around the holidays. Whether you're escaping to a warm, tropical destination come January 2018, or trying to get a last minute flight back home to your folks for Christmas, the costs are outrageous. On the plus side, if you plan right, you can use these eight Black Friday travel deals to relieve some debt in your wallet this year.
Last week, DealsNews set predictions for Black Friday travel deals, estimating that roundtrip domestic flights would go for $100 or less, roundtrip flights to Europe would start at $200, and roundtrip flights to Asia would start at $500. While not all travel deals have been announced, here are some of the flight deals that have been and will be available soon.
Here are some of the best Black Friday flight options from SkyScanner that will likely be on sale Nov. 24-27:
American Airlines:
Round-trip flights starting at $80 from New York.
Round-trip flights starting at $66 from Miami.
Round-trip flights starting at $48 from Philadelphia.
Round-trip flights starting at $70 from Chicago.
Alaska Airlines:
Round-trip flights starting at $44 from Los Angeles
Round-trip flights starting at $80 from San Francisco
Frontier Airlines:
Round-trip flights starting at $64 from Washington D.C.
Delta Airlines:
Round-trip flights starting at $82 from Boston
Round-trip flights starting at $89 from San Francisco
Round-trip flights starting at $82 from Atlanta
New York, Los Angeles, Miami, London, and Las Vegas were the top five destinations in 2016 from SkyScanner Black Friday and Cyber Monday predictions, and will likely be top destinations again this year.
If you're thinking outside the box for next year's travel plans, here are some travel package deals for people who are trying to do international and multi-destination trips. Starting November 20-30, Intrepid Travel will offer 15 percent off all international trips, to any of their 26 locations according to Refinery29. The deal applies to trips starting February 1 to September 30, 2018.
If you're looking for less excursion and more relaxation, look no further.
CheapCaribbean's 12 Days of Beach campaign might be a good choice for your warm getaway. Starting on Cyber Monday, Nov. 27, CheapCaribbean will release one all-inclusive discounted vacation deal every day for 12 consecutive days. Each package has a different location and will only be available for 24 hours, starting at 10 a.m. ET the day of.
Topdeck Travel, a company that creates "trips for 18-30 somethings" in six different continents will offer a discount of up to 70 percent off trips starting November 24-27. Some of these deals include a $159 trip to Sydney, Australia for five days and a two-week trip to Morocco, Portugal, and Spain for less than $600, according to Refinery29.
Now, obviously booking cheap flights is a plus, but not without finding a good hotel to stay at first.
DealsNews projected that about a third of all Black Friday travel deals will be for hotels. Here are some tips:
First of all, don't be afraid to aim high. Take a look at four- and five-star hotels because hotels usually provide deals on their high-end places. You should also be expecting flat-rate discounts from Expedia and Hotels.com, two booking sites. In addition to that, keep an eye out for the bigger chains like Starwood and Hyatt, which are projected to have anywhere from 30 to 60 percent off stays, as well as hotels on the Off-Strip Las Vegas which could be for under $20 a night, according to DealsNews.
The best Black Friday travel deals will be right at everybody's fingertips, it's just a matter of who gets to them first.