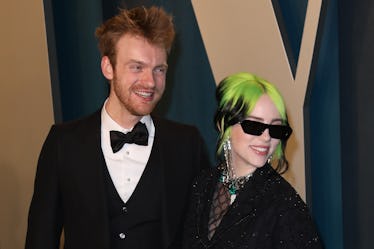 8 Billie & Finneas Moments That Made You Wish You Were Part Of Their Family
Toni Anne Barson/WireImage/Getty Images
As Billie Eilish was thrust into the spotlight for her musical talents, so was her brother, Finneas O'Connell, who works closely alongside her as a songwriter and producer. The two are undoubtedly an unstoppable duo, and while Eilish and Finneas have been slaying the stage together, they've also set the bar high for sibling goals. Whether it's work related or their personal life, these eight Billie Eilish and Finneas moments will make any fan wish to be a part of their family.
Long before Eilish and Finneas took home 2020 Grammy awards for Record of the Year, Song of the Year, Album of the Year, and Best Non-Classical Engineered Album, the brother-sister team was making music in their childhood bedrooms.
Since topping the charts all throughout 2019, Finneas and Eilish have had no shortage of moments that prove their bond is strong AF. Take Finneas intervening when a troll claimed their success is only because of their parents' "connections", for instance. Finneas snapped back at the commenter in a since-deleted tweet, writing:
During my life time, our parents were never able to fully financially support us off of their work as actors. Our dad worked 12 hour days 7 days a week as a construction worker for Mattel and our mom was a teacher. Our parents gave us love but knew no one in the record industry ... I paid off their mortgage last year and billie pays them each salaries to tour with us full time though they have told us many times they would work for us for free.
Talk about having his sister's back. And Eilish doesn't shy away from giving her brother credit where credit is due, either. Check out these eight moments between Eilish and Finneas that will fill your heart with joy.