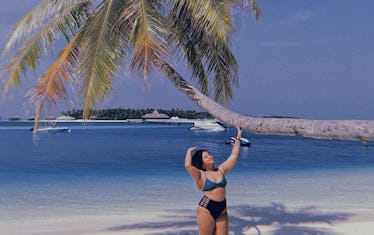 8 Coolest Things I Experienced In The Maldives That Prove It's The Hot Spot For 2019
Traveling is one of my favorite things to do, and I like to think that I've been to some pretty special places — from the Philippines to Croatia, and many destinations in between. I've had the incredible opportunity of experiencing new cultures and foods, and I've met wonderful people along the way. My year began with an impromptu trip to the Maldives, and now I finally understand why this country is such a dream destination for so many people. Here are some of the best things to experience in the Maldives that really prove it should be on everyone's travel bucket list for 2019.
I did everything from feeding stingrays out of the palm of my hand, to practicing yoga overlooking a beautiful sunset on the horizon. The crystal clear waters, grand palm trees, and silky white sand make it the perfect destination for a relaxing tropical vacay. Going there was the perfect way to kick off my new year. I came back feeling rejuvenated and ready to take on whatever this year has in store for me.
If you're planning on traveling this year, and are looking for your next spot to visit, I can't recommend the Maldives enough. While you're there, take advantage of these amazing experiences. (And say hi to the stingrays for me!)