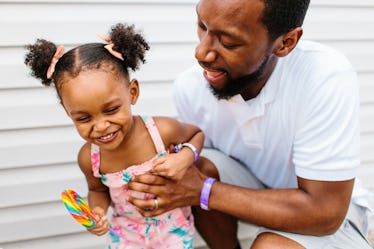 8 Times Your Dad Proved He's Your Number One, From Day One
Your dad is the OG ride or die in your life. Before your girlfriends and your SO, your dad was most likely one of the first people to have your back, no matter what. And while you may not rely on him for every single thing anymore, the highlights of your life include the best dad moments that will forever be engrained in your memory.
Dads do so many things for their daughters, without asking for anything in return. From consoling you after a horrible breakup, to teaching you how to change a tire, there's nothing you didn't think Dad could do. He was basically a superhero who ate at the same dinner table, and you felt #blessed.
Unlike Superman or Batman, though, Dad didn't only appear when you needed him. He was always there and still is, because even as an adult, you can't seem to get enough of him (even his corny AF dad jokes).
Dads give us life (literally), and we're totally here for their contagiously good vibes. It's also worth mentioning that they're beyond selfless. Dads definitely don't keep tabs of how much they do, but if they did, these eight moments would make it on that tally sheet, for sure.