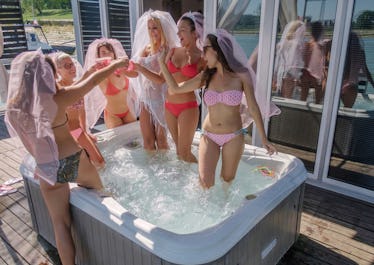 77 Summer Bachelorette Party Hashtags That Veil Get You All The Likes
The moment you realized your girl's bachelorette party would land smack dab in the middle of the summer, to say you were stoked would be an understatement. Obviously, you'd ensure your bestie has the time of her life no matter what the season is, but you have to admit, summer is a clear winner. From a long weekend spent vineyard hopping in the Hamptons, to a relaxing yoga retreat in San Diego, the possibilities are truly endless. Your summer bachelorette party hashtags will attest to how much fun you're going to have.
Are you guys planning to sip Mai Tais all day long by the pool, or march up and down the Las Vegas strip with your glittery sashes and heels? There's a hashtag for both of those scenarios, and there's no doubt you'll find more than a few applicable ones on this list. You and your girls might even make up some on your way to wherever you're going. Any true Instagram fanatic knows you can never have too many hashtags, and for these special celebrations, you'd be wise to include as many as you can. Feel free to tease any wedding hashtags you already have in the works, too.
Your girl is on her way to become a wifey, and her summer bachelorette party should be something she never forgets. It needs to be so epic so that every time she thinks about it, she can't help but laugh. The summer is going to bless you guys with amazing weather, so the tribe has to do the rest. You might as well get a head start on your bridesmaid duties, if you happen to be one. Make sure the only thing your girl is worried about is how hard she's going to fist pump the night away. Hopefully you've got your coordinated outfits and fun games packed already, because you aren't going to have enough room for anything else after you sift through these 77 hashtags.
1. "#SummerBrideTribe" — Unknown
2. "#GettingTansAndMakingMemories" — Unknown
3. "#HotSummerHotterBride" — Unknown
4. "#BringingThatHeat" — Unknown
5. "#AllPlayMoreSun" — Unknown
6. "#GirlsJustWannaHaveSun" — Unknown
7. "#HereComesTheSun" — Unknown
8. "#TropicLikeItsHot" — Unknown
9. "#SummerDaze" — Unknown
10. "#Don'tMindIfIDo" — Unknown
11. "#YouCantSipWithUs" — Unknown
12. "#SunnyShenanigans" — Unknown
13. "#BacheloretteBash" — Unknown
14. "#KissMissGoodbye" — Unknown
15. "#AlmostWifeyLifey" — Unknown
16. "#BridalCrew" — Unknown
17. "#IDoCrew" — Unknown
18. "#PartyStarters" — Unknown
19. "#TheSunVeilShine" — Unknown
20. "#EngagedAF" — Unknown
21. "#HereComesTheBride" — Unknown
22. "#SunsOutBunsOut" — Unknown
23. "#FromDuskTillDawn" — Unknown
24. "#SunnyDays" — Unknown
25. "#HotDaysCoolBride" — Unknown
26. "#PartyingPoolPartners" — Unknown
27. "#FadingSummerForeverMemories" — Unknown
28. "#BrideTime" — Unknown
29. "#PopTheChampagne" — Unknown
30. "#VeilBound" — Unknown
31. "#AVowToParty" — Unknown
32. "#BridesLastRide" — Unknown
33. "#SummertimeBride" — Unknown
34. "#ColdDrinksHotBride" — Unknown
35. "#MermaidSquad" — Unknown
36. "#SummerFun" — Unknown
37. "#AlmostWife" — Unknown
38. "#ShesChangingHerName" — Unknown
39. "#SummertimeFine" — Unknown
40. "#ThatSummerFeeling" — Unknown
41. "#WhoTurnedOnTheHype" — Unknown
42. "#Let'sGetLit" — Unknown
43. "#SunbathingSquad" — Unknown
44. "#InSyncForSummer" — Unknown
45. "#AllVeilTheSummer" — Unknown
46. "#PartyBride" — Unknown
47. "#DoItForThe'Gram" — Unknown
48. "#SheSaidYes" — Unknown
49. "#SunFirstMarriageLater" — Unknown
50. "#SunkissedBride" — Unknown
51. "#SummerIssaVibe" — Unknown
52. "#SummerChasers" — Unknown
53. "#ProfessionalPartiers" — Unknown
54. "#TansLinesAndBrideTime" — Unknown
55. "#HotTempsCoolParty" — Unknown
56. "#HereForTheBride" — Unknown
57. "#WeCameToConquer" — Unknown
58. "#ProfessionalBridesmaids" — Unknown
59. "#ISurvivedABacheloretteParty" — Unknown
60. "#PartiedLike2018" — Unknown
61. "#OperationSummerBachelorette" — Unknown
62. "#WeCameWeSawWeConquered" — Unknown
63. "#UntilTheyKickUsOut" — Unknown
64. "#FianceGlowSummerFlow" — Unknown
65. "#HighTempsHigherPumps" — Unknown
66. "#SunshineSavesLives" — Unknown
67. "#SummerBacheloretteBash" — Unknown
68. "#HappyBrideHappyTribe" — Unknown
69. "#BringOnTheHeat" — Unknown
70. "#SunOneIsAFiance" — Unknown
71. "#OhSunnyDays" — Unknown
72. "#FunInTheSun" — Unknown
73. "#LetTheGamesBegin" — Unknown
74. "#BestSummerEver" — Unknown
75. "#It'sABrideVibe" — Unknown
76. "#BrightSunGlowingBride" — Unknown
77. "#SunshineForDays" — Unknown