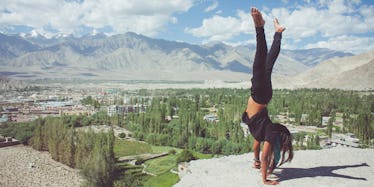 When You Want To Manifest Your Dreams In Life, These 7 Yoga Poses Will Make It Happen
We all have the ability to bring our wildest dreams to life. According to the law of attraction (also known as "manifestation"), it is completely possible to make whatever goals and aspirations you might have, into your reality. With a little bit of journaling to express your intentions, a whole lot of trust in the universe, and a few yoga poses for manifestation, you'll be well on your way to manifesting the life of your dreams before you know it.
Turning your dreams into reality through manifestation might seem intimidating, out of reach, and honestly kind of mythical at a glance. But it really, truly is within your reach, no matter who you are or what you want to accomplish in life. You just have to gather the right tools to get the ball rolling.
Enter: yoga. This ancient practice shows you that the universe lies inside each and every one of us, and that we all have the ability to empower ourselves with expansive breaths, strong movements, and centered, stabilized thoughts.
With a little help from a daily yoga and mindfulness practice, you'll begin to feel confident in the belief that all things are possible. With the sheer power of your very own thoughts, your whole life will shift — and you'll realize that you're able to awaken those abilities of manifestation that lie deep within you.
Try flowing through these seven powerful poses when you're in the midst of manifesting your most passionate dreams.