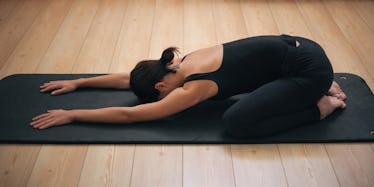 When Your Head Is Killing You, Try Flowing Through These 7 Soothing Yoga Poses
There's nothing worse than a pair of pulsing temples that are threatening to ruin your entire day. Whether it's caused by stress, bodily tension, PMS, or literally anything else, headaches sure know how to destroy a good mood or any sense of productivity in a matter of moments. If an Advil just isn't doing the job, and you don't have time to power-nap it off, there are are a few yoga poses for headaches that will diminish your pesky brain pain in no time.
Practicing certain yoga poses opens up your shoulders, neck, and spine, which helps release any unnecessary bodily tension that might be contributing to your headache, according to Shape. The stretching and lengthening done in a yoga practice also encourages blood flow to your head and provides soothing sensations above the neck.
Keep in mind, though, no matter how much you stretch, stress often plays a huge role in amplifying, or even inducing headaches in the first place. Engaging in deep, calming breaths through your yoga practice can help lift some of that tension, and pretty soon, your head might just stop pounding.
Of course, if your headaches are getting to the point of a chronic struggle, and it's not something that can be fixed by a soothing yoga sequence or over-the-counter meds, it's best to speak to your doctor about what treatment might work for you.
But if you're simply dealing with the occasional nagging headache, slowly sink into any of these seven yoga poses to help relieve the pain.