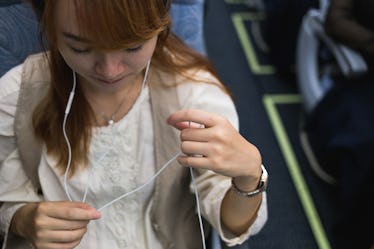 These 7 Low-Key Workouts Will Feel Amazing When You're Stuck On A Long Flight
I don't know about you, but I get restless AF when I'm on a long flight. Being sandwiched in between two strangers just isn't my jam, and my entire body starts getting achey and cramped up real quick. While I'm not about to be the freaky girl who disturbs her neighbors with weird-ass airborne exercises, there are some super low-key workouts you can do on a plane that won't seriously piss off the people sitting next to you.
When you're sitting in one place for hours at a time, your muscles begin to really tighten up, and it becomes a lot harder for your blood to circulate throughout your body and "nourish your muscles," according to Women's Health. Basically, plane rides are a kind of necessary evil in life, but your body definitely does not like it one bit, so including movement into your travel routine is key for feeling your best.
However, I'm guessing you don't want to disturb the peace of literally everyone else on the plane, which means you'll want to keep your flight exercises super casual, you feel me?
Luckily, there are a bunch of exercises you can do during your next plane ride that no one will notice but you — I promise. Try these seven low-key workouts that'll work wonders when you're stuck on a long flight. Leave the disturbances to the crying babies, girl.