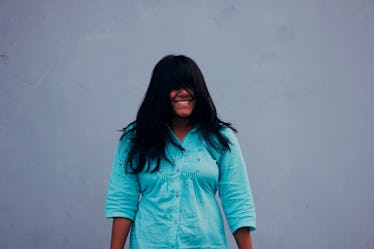 How To Feel Happier By Making These 7 Simple Changes In The Way You Talk
Language is a powerful thing, and while words might not necessarily hurt you, they can give you away. I'm not referring to literally slipping a secret in the middle of a conversation, either; the way you talk is often a clear indication of how you feel in any given moment. Think of it as reading between the lines whereas, instead, you're listening between the word choices to decode yours or someone else's mood. You might be surprised by the fact that words that make you happy exist, and they aren't necessarily fancy or foreign to you. By mindfully making simple swaps that turn a negative into a positive, how you speak can change how you feel, which is pretty remarkable, if you ask me.
The next time you strike up a conversation with someone, listen to what they have to say, but also pay attention to how you're feeling in that moment and the way you speak, too. Oftentimes, we're so distracted by what's going on internally that we don't even realize the tell-tale signs we're giving off through details as subliminal as our language that say "I'm not OK."
New research coming from the University of Reading has found that, if you pay close attention to someone's speech patterns rather than just taking sentences strung into paragraphs at face-value, you can pick up on how a person is actually feeling. For example, researcher and Ph.D. candidate in psychology Mohammed Al-Mosaiwi told The Conversation that people going through depression tend to repeat words with a negative connotation, like "sad" or "miserable," and liberally use first-person pronouns like "I" and "me." This is because when you feel depressed or low, you become so preoccupied by what's going on inside your head, that you start to feel notably separated from other people.
But what if you could separate yourself from language, and re-evaluate your word choices before committing to them aloud? According to Happify's "The Science of Happiness Chart," only about 10 percent of your happiness is determined by circumstance, while 40 percent is controlled by your own thoughts and behaviors. Going off that statistic alone, you should be able to change how you feel by first changing your mind and, as a result, changing how you speak to yourself and others.
In an exclusive interview with Elite Daily, Happify's chief scientist Acacia Parks explains that language not only represents your mood, but it can also control your mood, as well. "Language can show us what strategies people are using to cope and strive toward happiness," Parks tells Elite Daily, "and those strategies, in turn, can change [your] mood for the better or worse." By putting negative thoughts out into the universe before taking the time to really think about what they mean to us, it makes them "real" which can, as a result, "worsen our emotional state."
The trick is not to avoid negativity completely, but to ask yourself if what you're about to say is an accurate depiction of how you feel, and consciously restructuring language, rather than "saying whatever first comes into [your] head," according to Parks. To shift your language from negative to positive, here are a few ways in which your word choices can change your mood.