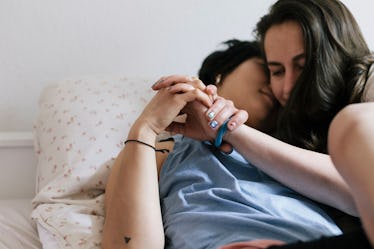 7 Women Talk About The Most Sneaky Sex They've Ever Had, & It's Hot
Tasting the forbidden fruit is a tale as old as time, and there's a reason it's so enticing. Whether you're lusting after someone you can't have or itching to get it on in the supply closet at work, the idea of getting what you know is off-limits can be a huge turn on. So, hearing these women talk about the sneakiest sex they've ever had might make you feel all tingly and give you some great ideas for sneaky sex of your own.
Here's the thing: Sex is exciting. And when you start having great sex with someone, this exciting person can feel almost addicting. It's like all you want to do is try out new positions and techniques as often as you possibly can. When you're so turned on and you can't stop thinking about getting it on, sometimes, it's easy to throw location and convenience out the window. Whether you and bae are at your parents' house for Thanksgiving, out in public, or anywhere in between, sneaky sex is tempting AF and hard to say no to.
However, it's important to remember that while having sex in public can be all kinds of hot and sexy, it can also get you in some serious trouble. It's actually considered a Class A or Class B Misdemeanor, which means that, if caught, you and your partner could face a fine up to $500, possible jail time for up to 12 months, probation, having to register as a sex offender, or community service. Yikes.
Nevertheless, today we're talking about sneaky sex, which is not necessarily public sex, amiright? Sex in a public park is, well, public. Sex in bae's childhood bedroom while their grandparents sleep down the hall? Sneaky sneaky! But once in a while, stealthy folks manage to pull a double whammy and have very sneaky sex in public. Here's how seven women on Reddit did the deed undercover. It's about to get real hot in here.