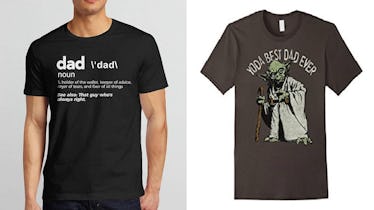 The Best T-Shirts For The Cool Dad This Father's Day That'll Make You LOL
By now, you're probably accustomed to dad jokes year-round, the occasional house call when you need Dad to fix something, and an endless well of wisdom. It all comes with the dad package, and on Father's Day, you need to show your appreciation for all of the little things he does on the daily that make a big difference in your life. Is your pop really laid-back? You'll want to browse through some shirts for dads for Father's Day, because you know he'll wear it all of the time.
Dad shirts range from punny to super awesome. In a way, those T-shirts match the dad persona to a T. Honestly, when was the last time you saw your dad rocking anything other than a T-shirt? Aside from special occasions, your dad may live for witty shirts, and you recognize and remember all of the silly ones he already has in stock.
This Father's Day, get your dad a shirt that characterizes all that he is. He's one of the funniest, most understanding, and reliable people you know. And as simple as the idea of getting a T-shirt for a gift may seem, the smile on his face when you give it to him will tell you that your present is anything but basic. Add an extra special item to your dad's wardrobe this year with any of these seven T-shirts.