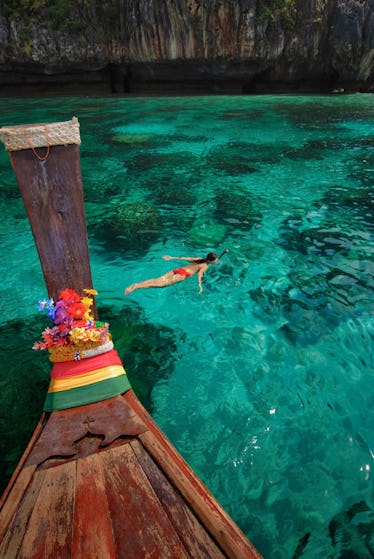 7 Warm Fall Vacation Spots For The Girl Who Already Misses Summer
Fall is a magical season. The changing leaves and crisper, cooler air paired with mostly sunny days make it the perfect relief from the sizzling summer months. But as much as I love fall, when the weather starts to cool down, I always find myself yearning for sand between my toes and a salty ocean breeze flowing through my hair. If you're anything like me, you're probably already hitting up the internet in search of warm fall vacation spots (even though New York City is still clocking in 96-degree temperatures).
Lucky for us wanderlusters, plenty of places across the country and the globe are still warm when the Northeast hits peak foliage season. From desert hikes to white sand beaches, there are a ton of spots to visit in the United States and beyond to give you the warmth that you so desperately crave. And even better? They're beautiful Insta-worthy destinations that can easily replace a photo of you chilling in a pumpkin patch (even though those are super cute, too).
Nothing against fall in the Northeast, but I'm probably — no, definitely — going to pack my bags and head out to one of these amazing destinations for a final taste of summer before the dreaded winter begins.