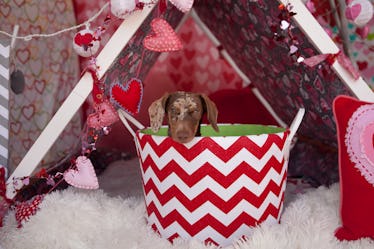 7 Sweet Valentine's Day Gifts For Your Dog, Because They'll Love You Fur-ever
Oh, Valentine's Day. Where would we be without your chocolate mania, hearts, and red and pink everything? With our dogs, of course, and that's why they aren't exempt from any holiday, even the lovey dovey ones. You're not being extra if you buy Valentine's Day gifts for your dog, because they're your fur baby and any holiday you celebrate, they celebrate, too.
Besides, your pup always appreciates everything you give them, down to the small things, like your time and attention. They are the best receivers of gifts because that wagging tail and those wet kisses are always guaranteed. When they're happy, you're happy, and if you absolutely despise V-Day, spending it with your furry friend will actually make it tolerable.
The day is all about love, right? Well, since you love them so much, you're already skimming for cute gifts. Also, how much more adorable will you make your feed with a snapshot of them with their new toy or dressed up all dapper for the occasion? It doesn't get any more Instagram-worthy than that. Since it's unlikely that'll you'll be able to take your fur baby out to a fancy dinner for two, you can still bring them a little piece of the holiday with any one of these gifts.