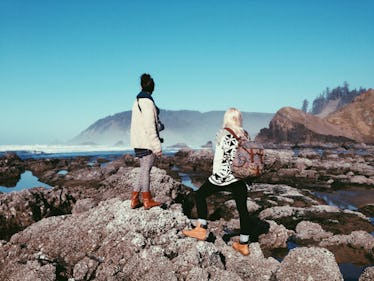 7 Unconventional Travel Goals You'll Only Want To Experience With Your Sis
If there's one person who will be there for you through thick and thin, it's your sister. Think about it; she's probably seen you at your worst. She's also celebrated with you at your best. You know she's there for you at the end of the day, even when you're not on the best terms. That's why sisters make the best travel buddies. It's only right to share extraordinary moments the person who has been there for you since day one. If you haven't made a sister bucket-list, get her on the phone now. I've rounded up unconventional travel goals you'll only want to experience with your sis, so it's time to clue her in on your plans.
Sisters keep it real with each other and that's crucial if you plan to be spending extended periods of time together. You've also got each other's back, so you don't have to worry about loyalty if something goes down. Mom and dad will be so happy to see that their daughters are out making memories across the world together. You'll always be able to look back and say, "remember that one time in...?" You'll have endless jokes that only you two know the meaning of. More importantly, you'll end up being closer than ever after it's all said and done.