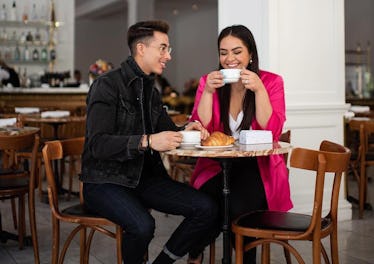 7 Really Awesome Restaurants In LA To Take Your Friends Who Are Visiting
Los Angeles is a magical city full of incredible sights to see and places to visit. From the Hollywood sign, to the Urban Light exhibit at the LACMA, to the pink wall outside the Paul Smith store on Melrose, there are plenty of places for you to visit both as a resident of the city and as a visitor. If your squad is planning a trip to the West Coast to see you, there are more than a few trendy LA restaurants to take friends who are visiting.
These places all have something fun and Instagrammable about them. Whether it's a rainbow-colored grilled cheese, marble floors and teal bar stools, hanging flowers and twinkly lights, or any of the other details that makes each of these restaurants unique, these seven spots are definitely worth a visit. Your friends coming into town will be super impressed with your restaurant bucket list, and you'll all be able to snap #content for the 'Gram no matter where you go.
Regardless of what your food tastes are, there's something for everyone on this list. Make sure you take your friends to one of these fun spots the next time they come into town — and make sure you visit them again even after they leave.