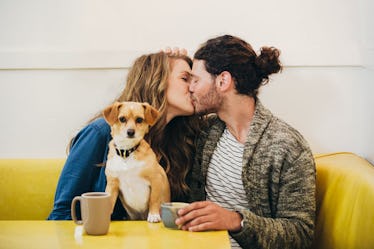 7 Sweet Traditions To Start When You & Your S.O. Get A Pet Together
The only thing better than lounging on the couch with bae is having a little fur baby nestled on your lap with you. In general, sharing a pet with your S.O. comes with major responsibilities, but you two will genuinely grow so much closer. There are so many sweet traditions to start with your pet and significant other that can all revolve around your new life together. Center of attention much? In this case, that's totally fine.
The kind of pet you two decide to get will determine all of the things the three of you can do together. Your pet is going to be like your child. You're going to want to take it everywhere, but most notably, it's going to be you and bae's favorite third-wheeler.
You may not notice at first, but your pet is going to change you two in a few ways. You're going to become selfless and more dedicated as you two tend to your pet's needs. All of this seems like a pretty fair trade, though, since you're getting wet kisses and endless loyalty in return. But seriously, you and bae are going to serenade this pet with so much attention and love. They're going to add an unreal amount of fun to your relationship. And in the process, you guys can start these seven traditions together and really feel like pet parents.