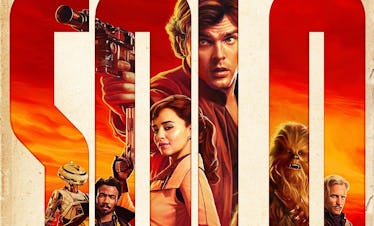 7 Things You Definitely Missed In The New 'Solo: A Star Wars Story' Trailer
Lucasfilm
Solo: A Star Wars Story released its second full-length trailer and gave fans a deeper look into the adventures of Han Solo prior to meeting Luke and Leia. We also got a better look at the heist that turned Han Solo into a smuggler and a look at the game of Sabacc where the Falcon was put up as part of the bet. The details in the new Solo: A Star Wars Story trailer serve as a reminder that there's actually a lot we don't know about the characters we first met in Star Wars: A New Hope.
But my personal favorite details is one that most fans seemed to think was merely in there for laughs. Chewie, it is revealed, is 190 years old. Han does a double and then a triple take. Here he is, 20-something at best, and his about-to-be co-pilot is how old?
But we knew Chewie had to be around that age, as according to Smuggler's Run - A Han Solo & Chewbacca Adventure, which is a Star Wars: The Force Awakens prequel novel, he was 180 years old at the battle of Kashyyyk in Star Wars: Revenge of the Sith. That battle was 19 years prior to A New Hope. The events of this movie, therefore, take place a decade after Sith and about nine years before Rogue One's prequel to New Hope.
It also means we now know how old Han is in this film as well. He was 33 years old in A New Hope, so here's he's 24.
Let's see what other fun details there are.