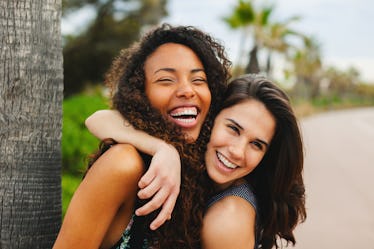 7 Thoughts Every Girl Has When Her Best Friend Gets Engaged
Think of your best friend. She is someone you can tell everything to, who you've seen grow and change into the person you love today. You've helped her through her lowest lows, and have made mistakes in your relationship along the way. She is also someone who you can have comfortable silences with, and who your family loves as their own child. She's always been there for you, and you sure as hell can bet you're going to be there for her, forever. And what happens when her SO pops the question? There are so many thoughts you have when your best friend gets engaged, that you may be speechless.
Of course, you have to know the person she's getting married to, but there's always going to be that little thought in the back of your mind saying, "Are we sure he's a good one, though?" You will forever be the mama bear to your bestie, and your person definitely deserves the type of happiness shown in the movies you two cry to every Sunday night over wine. So, regardless of possibly knowing him or her relatively well, there are a ton of thoughts and emotions you might have when you see that ring. Here are just a few that scrape the surface.