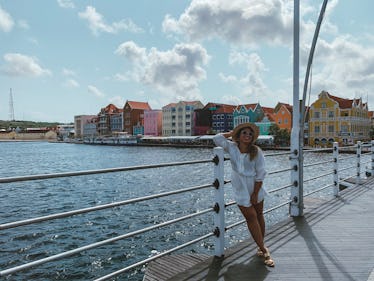 I Vacationed In The Caribbean's Most Underrated Island & Never Wanted To Leave
I've traveled to my fair share of islands around the world, but one that I never knew that I needed to visit is Curaçao. The tiny Dutch Caribbean island hadn't crossed my radar until recently, but now that I've visited, I can't stop talking about it. I want everyone to know how much fun I had on the trip, and how unique of a destination I think it is, so I've rounded up some things to do in Curaçao that I think that you absolutely have to check out if you head down there.
In Curaçao, I had the amazing opportunity to snorkel to an abandoned shipwreck, indulge in a relaxing massage in an open-air treatment room, paint my own traditional chichi doll, and take pictures in front of the candy-colored buildings in Willemstad. Overall, my time on the island was a fun and unique vacation that I would do all over again if I had the opportunity.
Though Curaçao wasn't initially on my travel bucket list, now that I've been there, I think that it needs to be on everyone's. It's a beautiful island, home to wonderfully welcoming people, delicious food, awe-inspiring views, and plenty of Instagrammable moments to fill your feed for weeks. Here are just a few of my favorite things that I did on my trip to Curaçao.