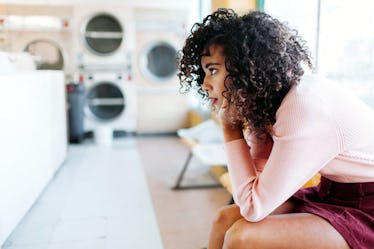 7 Things To Do Alone On The Weekend That Prove You've Reached Peak Adulting
Kayla Snell, Stocksy
Adulting is hard, I know. It's even harder when you have to do it by yourself, and adulting by yourself on the weekend is even harder than that. But a great way to measure progress in your personal life — and also measure how "adult" you are — is learning how to do some of life's most tedious tasks on your own (and maybe even learn to enjoy them). Here are some things to do alone on the weekend that prove you've reached peak adulting.
I know what you're probably thinking: Does anyone ever actually learn to enjoy doing laundry or paying bills? Probably not, if I'm being entirely honest. But you can learn to enjoy the feeling of being productive, and these duties might feel more approachable if you can cross a lot of things off your to-do list. I'll admit, I thoroughly enjoy the opportunity to rearrange my calendar or meal prep my favorite food. (But I'm still trying to learn how to love washing dishes afterward, unfortunately.)
Try it out. This weekend, instead of spending all day Saturday rewatching your favorite series, try to be a little more productive. Clean your room, run some errands, and pay your bills. The productivity and progress are some of the best feelings in the world.