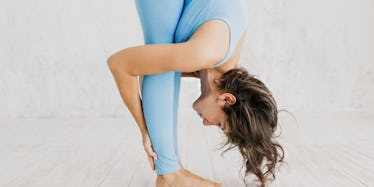 No One Tells You These 7 Things About Doing Yoga, But They're Legit Everything
The first time I did yoga, I absolutely hated it. I loathed my hippie instructor's earrings that were made out of dried fruit; I resented the subtle smell of lavender essential oil that enveloped the studio; and I felt incredibly uncomfortable in all of the physical poses that seemed to come so naturally to everyone else. I didn't return to the mat for a solid year after my first yoga class. Ironically enough, I'm now a yoga teacher who's head over heels for this beautiful, ancient practice. I guess one of the things no one tells you about doing yoga is that it might come find you when you least expect it — even when you're specifically and strategically trying to hide from it.
Personally, yoga makes me feel more in touch with my body and soul than any other form of exercise I've tried. I, like many people, initially came to yoga seeking a physical transformation of some kind, but it didn't take long for me to realize that the time you spend on your mat is about so much more than aesthetics. The practice teaches you to love yourself fiercely and unconditionally (and yeah, it's a pretty good workout, too).
See, if you can breathe, you can do yoga, and if you ask me, yogis make the world a better place. If you're open to it, this practice can teach you things you never thought you'd want, or even need to learn. It teaches you how to really show up for yourself, day after day — and I bet no one told you that as you ordered your very first yoga mat on Amazon.
In honor of National Yoga Month, Elite Daily reached out to a few yoga teachers, who have revealed the seven things no one will tell you about the practice when you first start, but that truly make it so worth it, and that make you keep coming back to the mat again and again.