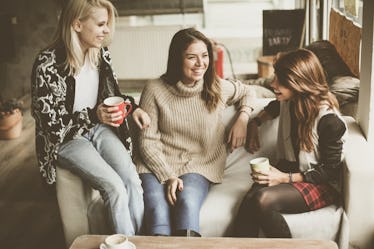 7 Sweet Christmas Gift Ideas For Your Best Friend Who Loves Starbucks
Everyone has that one friend who doesn't know life without the influence of Starbucks. This friend is at Starbucks religiously, and not just for the cute holiday drinks. They're diehards year-round. Because of this obsession, many gifts for someone who loves Starbucks are right at your fingertips.
Thankfully, Starbucks brings out the cutest stuff around Christmas time. You've probably already heard your best friend rant and rave about the release of the Starbucks holiday cup this year. From the cups to the colorful mugs, a Starbucks care package will be more than enough for your coffee-loving friend to sip on all year long.
You have to find something to complement those coffee dates you two have together. It'll be a little reminder that you support them in all of their ventures — even the ones that worship a green siren, caramel drizzle, and espresso. As much as some coffee drinks get the rep of being basic, anything you gift to your best friend will never fail to be special. Just as a head up though, the Starbucks online store is no longer available, so you may have to resort to heading into your local shop. Whether your friend likes macchiatos or frappuccinos, any of these Starbucks-related gifts will be the cherry on top of that whipped cream finish that they live for.