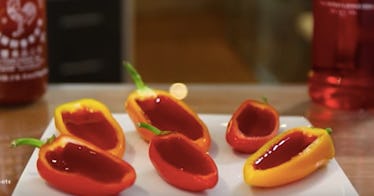 Sriracha Jell-O Shots Are Here To Make A Touchdown At Your Super Bowl Party
Super Bowl Sunday is right around the corner, my friends. If you haven't already started your party planning, it's about time you got on that. It's Super Bowl party prep week, and that means the hype is real and things are about to get serious. The food and drinks are essential parts of hosting your game day get-together, so you really have to have them in check. Whether you're throwing a party for your closest besties, or going all out with a big group of people, there's one thing you cannot forget — the Super Bowl Jell-O shots, of course.
If you're 21 and up, you know that no party is entirely complete without passing some Jell-O shots around to get the night started. Everyone loves them, and they're super easy to make. But, it's the Super Bowl, so a plain old red Jell-O shot just isn't quite going to cut it. It's time to kick it up a notch.
Just how do you make a Jell-O shot better? It's easier (and, thankfully) less time-consuming than you might think. Try out one of these seven recipes, or make a spread of a few of them. It's time to get this party started!