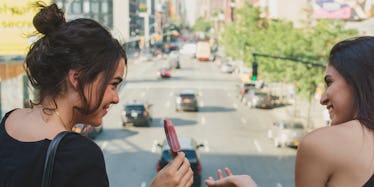 7 Chill Summer Date Ideas That'll Keep You Cool When You're Sweating Buckets
You may prefer a specific season over another for your dating – and it's true, the four seasons have something special to offer in the dating department. Fall, you get pumpkin picking and apple cider drinking; winter, you can make spiked hot chocolate together and marathon a show you're both behind on; and spring, you can walk through gardens and make picnics on a sunny day. But figuring out summer date ideas when it's too hot and walking outside can be almost painful and a chore, so I've compiled some ideas for you. You're so welcome, reader.
Key things to keep in mind when figuring out a summer date: You don't want to sweat your whole face off. You don't want to soak your clothing – unless it's a bathing suit and you are in a body of water, or on a slip-n-slide. Frozen drinks and snacks are likely a must either before, after, or during the date, as are areas in which air-conditioning is a thing. If you want to be outside, go for anything in which water will be on or in your body (or preferably both!). Most importantly, you'll want to plan your date ahead of time so you're not unnecessarily in the heat for a period of time.